Fort Collins Congregation
220 East Oak Street
Fort Collins, CO 80524
Phone (970) 482-9206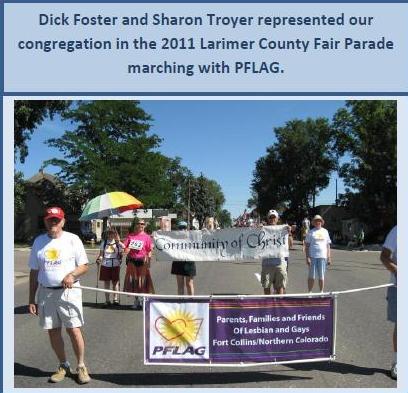 June 17, 2011
United Nations Approves Gay Rights Resolution

click here for the story
January 30, 2011
5th Sunday Forum


Lindsay Melsen

Building an Inclusive Community

As part of the WEAVERS responsibility to help the congregation more fully live out its covenant of welcome within the community of Fort Collins, Lindsay Melsen from Lambda Community Center presented an intergenerational workshop at the 5th Sunday Forum on January 30th. Lindsay helped us explore our biases and reservations about all different types of people and look at the real culprit of why humans are not more connected.

The workshop was followed by a short worship/devotion service planned by the WEAVERS committee.
January 2011
The USA Apostle Team Letter
We invite you to join us on a journey of faith that will lead to the 2012 USA National Conference and beyond. The delegate conference, July 18–22, 2012, in Independence, Missouri, will determine the level of support for

1.) Extending the sacrament of marriage to persons of the same sex/gender OR providing a church-recognized way for two persons of the same sex/gender to publicly express their commitment to each other.
2.) Allowing people in committed, monogamous, long-term, same sex/gender relationships (legal marriage, civil union, church-recognized commitment) to be considered for ordination.

The delegates' common consent will determine if present policies will remain in place or new policies will need to be written and implemented. .............. Click here to read the entire letter
August 2010
WEAVERS Committee Promotes
A Coalition of Welcoming Faith Communities
We believe that the film * 8: The Mormon Proposition is prima facie evidence why it is important for the church and the state to maintain a separation. For one faith community to impose its perception of right on an entire state and perhaps an entire country, flies in the face of the freedom of each religion to abide by its own faith principles free from the power or control by the state, or by another religion using the state to control the faith practices of other faiths.
We believe this film provides an opportunity for faith communities in Fort Collins to form a Coalition of Welcoming Faith Communities so that GLBTIQQA persons can find a safe and supporting faith community for them to develop their spirituality and relationship with God.
WEAVERS Committee
Fort Collins Community of Christ
* The movie will be shown at CSU this October - stay tuned for date, time and location.

May 2010
New Standing Committee Appointed
A new standing committee has been appointed to replace the WCN committee.
The committee is named WEAVERS, which is an acronym for:
Welcoming all,
Educating ourselves about the marginalized,
Accepting our giftedness,
Visioning for peace and justice,
Exploring the spirit of diversity,
Responding to our community, and
Serving all.
The committee's responsibility will be to help us more fully live out our covenant of welcome within the community of Fort Collins. Members of the committee are: Dick Foster, Jon Mendenhall, Max Coopwood, Tom Beck, Sharon Troyer, Shirley Remmenga, and Rich and Mary Kohlman, serving as co-chairs. Please contact any member of the committee with ideas and opportunities as we strive to flesh out our covenant of welcome.

One of the new committee's first tasks was to create a brochure to be distributed at Pride in the Park on June 5th.
Welcoming Community Network Group - News

Graceland Students Stand Tall - March 2010
Read the Lamoni Chronicle article

Catholic School in Boulder, Colorado rejects children of Lesbian couple.
Read the news article and then the parents response.


WCN Newsletter

November 22, 2009 the WCN Group presented a resolution for the congregation to become an official WCN Congregation and adopt a Covenant of Welcome. It was passed unanimously.

January 31, 2010 will be the pancake breakfast/forum. We will discuss the resolutions coming up at World Conference
For the 2010 World Conference Resolutions
click here

SAMPLE ADS

In October 2009 we submitted a Resolution on Human Rights to the Rocky Mountain Mission Center to be acted on and if passed go on to the 2010 World Conference for consideration by that body. With one minor amendment it passed.

Andy Horner's Speech

August 30, 2009 WCN sponsored a pancake breakfast and 5th Sunday Forum. The film "Coming Out, Coming In" was shown followed by small group discussions.

The WCN Group presented a panel with guest speakers on June 14, 2009 to help the congregtion continue its journey toward understanding what it means to be a WCN congregation.
Click here for complete information.
Some History

A small group of folks in the Fort Collins Community of Christ congregation came together in April 2008 with a desire to see their congregation officially become a Welcoming Congregation; One that is open and affirming to all, regardless of sexual orientation or gender identity.

The congregation already had a gay couple attending and they had been warmly welcomed so the newly formed WCN Group felt the time was right for study, dialogue, prayer and discernment within the larger congregation with the ultimate goal of declaring itself publicly as a Welcoming, Open and Affirming Congregation.

One of the original members of the group was on the Board of the Welcoming Community Network which assists Community of Christ congregations in this process.

Some of the activities that have been initiated on this journey to date are listed on the right. We welcome more members into our group as we move forward in our attempt to live out one of the "core values" of our denomination: "The inestimable worth of all persons". To join us contact our webmaster


1. Articles and Announcements in the congregation newsletter "The Communicator"

2. Planed a Sunday morning Worship Service around the theme of Welcome with emphasis on LGBT

3. Showing of the film "For the BIBLE tells me so" and discussion.

4. Adult Sunday School Class the summer of 2008 using the book by Bill Russell, "Homosexual Saints - The Community of Christ Experience"

5. Developed a resolution for the 2008 Rocky Mountain Mission Center Conference in response to a resolution seeking to remove links to WCN and GALA on the mission center website.
(click here to see it)

6. Feb. 2009: Introduced a suggested Welcoming Statement to the congregation in a Communicator article.
Links:
Letter to President Obama
Building an Inclusive Church
First Presidency Letters on same-sex marriage
Fort Collins WCN Group response to First Presidency
The First Presidency's Answer to us
Richard Howard's response to First Presidency
Graceland University letter on campus marriage
2008 Resolutions from Canada on same-sex marriage
Two questions: Why Public? Why GLBT?
Sample Welcoming Statements
Welcoming Conversation Project